You've figured out your child is dealing with sensory overload. Maybe you ever know what triggers it. But your child is in the middle of sensory overload and you don't know what to do to help. Today, we're going to give you some tips on how to help a child with sensory overload.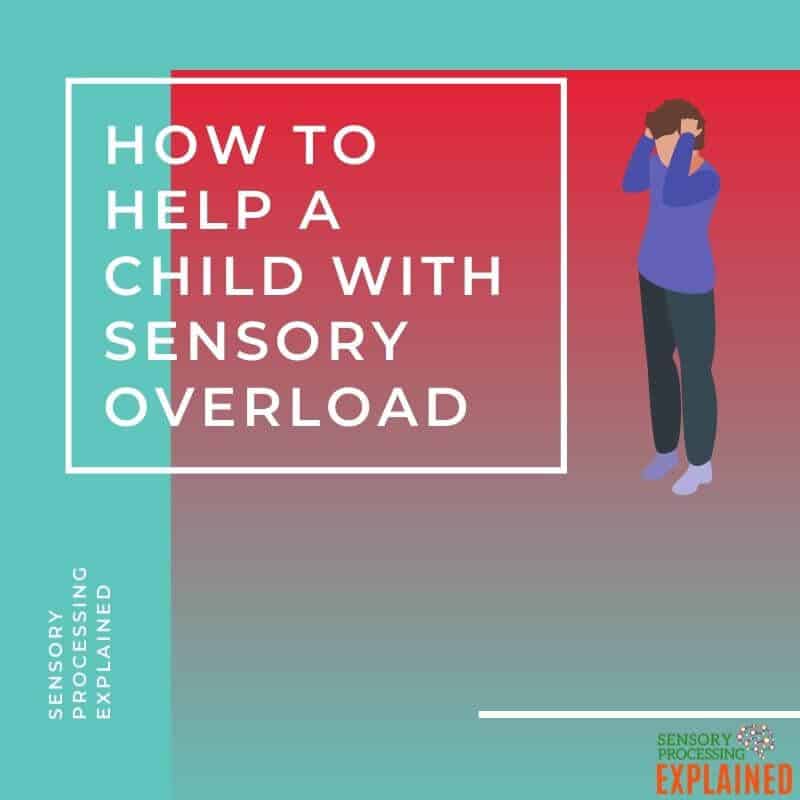 If you are unfamiliar with what sensory overload is or looks like, check out our post here: Signs of Sensory Overload.
Once you have figured out your child's sensory triggers, it's important to have a plan on how to help them through the sensory overload. Even knowing all the triggers, doesn't mean you can eliminate all sensory overload. But having a plan for how to work through it can be the difference between being overwhelmed at that moment or working towards regulation and calm.
Ways to Help a Child with Sensory Overload
It's important to note that each person and child is different. This is not an exhaustive list of ideas, and you will need to figure out what works exactly for your child and in specific situations.
This is also when working with a professional, like an Occupational Therapist, can be extremely beneficial. They can give you a tailored plan for your child's specific needs. If you ever feel your child is dealing with sensory challenges that are affecting their daily routines or care, definitely ask for an Occupational Therapy evaluation, specifically for sensory processing.
With all that being said, here are some general ideas that can get you started in the right direction.
1 || Develop an Exit Strategy
This is not always possible, but if possible, have an exit strategy in place for different environments. This is especially helpful for out in the community and you need to leave a place that is causing sensory overload. Does that place have a rest area or a quiet area you can retreat to if needed? Do you need to head back outside to the vehicle and try coming back in later?
If you are going to someone's home, make a plan ahead of time and ask if there is a quiet bedroom or even closet your child can retreat to if needed. If you are at your own home, create a calm down area or space in your home that your child knows is their safe space to retreat to.
2 || Create a Calm Down Corner/Sensory Space in Your Home/Classroom
I just mentioned this above, but having a space in your home or classroom for children to retreat to can be extremely helpful. Here are some more links with different spaces and corners you can create.
When the child is not overloaded, show them the space and let them know this is where they can go if they feel like they need to take a break or are feeling sensory overload in their bodies (tips on how they can recognize this below).
3 || Deep Breathing Exercises
Deep breathing techniques can have a very calming effect. You can use your hand to help prompt this, or use the many deep breathing printable prompts out there to have hanging on a wall or in your sensory space.
This is a great post on how you can teach this to your child:
Relaxation Breathing: A Powerful Tool – The OT Toolbox
4 || Read a Book
Taking a break to read a book is a tip we use a lot in our house. My daughter loves to read, so this is what she often does when she needs to take a break. Even younger children or children who struggle with reading can still use this tip by looking at picture books.
Here are some of our favorites:
5 || Use Noise Canceling Headphones OR Listen to Music
Noise canceling headphones can be used in an environment you know is going to cause a lot of overload, especially if loud or constant noise is a trigger for your child.
With music, make sure you have choices that are slow and rythmic in nature to promote the body to slow down and relax. Music with a fast tempo or with a lot going on may cause more overload and not help in this situation. Again, each child is different, so have different options available and try different types to see what your child will respond to.
6 || Teach Children How to Recognize Sensory Overload in Their Bodies
This is another tip that can be taught when they are not in overload. Helping children understand what sensory overload looks like in their own bodies not only helps you but also helps them to self-recognize and advocate for their own needs. Knowledge is power!
We have a When I Feel Sensory Overload Workbook that helps them do just this. This digital download workbook can be used to debrief or used any time to help your children understand their own bodies and how they can self-regulate during sensory overload in their bodies.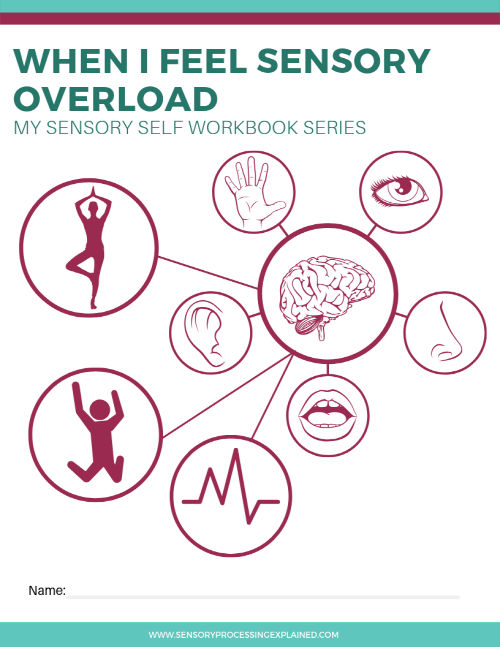 7 || Provide Deep Pressure Through Hugs or Heavy Work
Deep pressure, or proprioceptive input during sensory overload can have a very calming effect for many children. This can include giving a firm, tight hug (if safe to do so and they ask you to), rolling up in a blanket like a cacoon, or doing other types of "heavy work".
For more ideas on this, check out the links below:
There are many other ideas that we could go over, but then this post would become a book. However, we did actually write a book all about sensory processing and give many more tips for sensory overload inside it. You can check out Sensory Processing Explained: A Handbook for Parents and Educators for more tips just like these.